Get started with Genesys CX Insights
From Genesys Documentation
Learn how to navigate in Genesys CX Insights, and how to generate reports.
Use Historical reports and dashboards to visualize contact center and agent performance over a period of time. How far back in time you can look varies, depending on the size and complexity of your contact center. By contrast, Real-time reports and dashboards provide information about interactions that are taking place right now in the contact center. To learn about other types of reporting, see How reporting works.
Genesys CX Insights provides numerous reports and dashboards (see Report Descriptions for a complete list). Reports display contact center activity using easy-to-read grids, while dashboards summarize a wider range of information using various visual devices. This document describes both, but for simplicity, it often refers to them collectively as reports.
Access the application

[

edit source

]
Once your Genesys Multicloud CX environment is up and running and you've checked that you meet the necessary requirements, log in to your Genesys Portal to access Reporting GCXI. Click the Reporting GCXI icon and enter your username and password.
Logging in
Genesys CX Insights does not necessarily use the same user account that other Genesys software uses. As a result, the user name and password to access historical reports can be different from the one you use to access other Genesys software. If you have trouble logging in, talk to your administrator. Most users cannot change their own Genesys CX Insights password.
Walk through the application
You access Genesys CX Insights using a standard web browser. MicroStrategy (the engine that powers Genesys CX Insights) certifies support for the latest versions, at the time of release, for the following web browsers:
Apple Safari
Google Chrome (Windows and iOS)
Microsoft Edge
Microsoft Internet Explorer (MicroStrategy supports versions 9 and 10, but they are not certified)
Mozilla Firefox
Navigating in Genesys CX Insights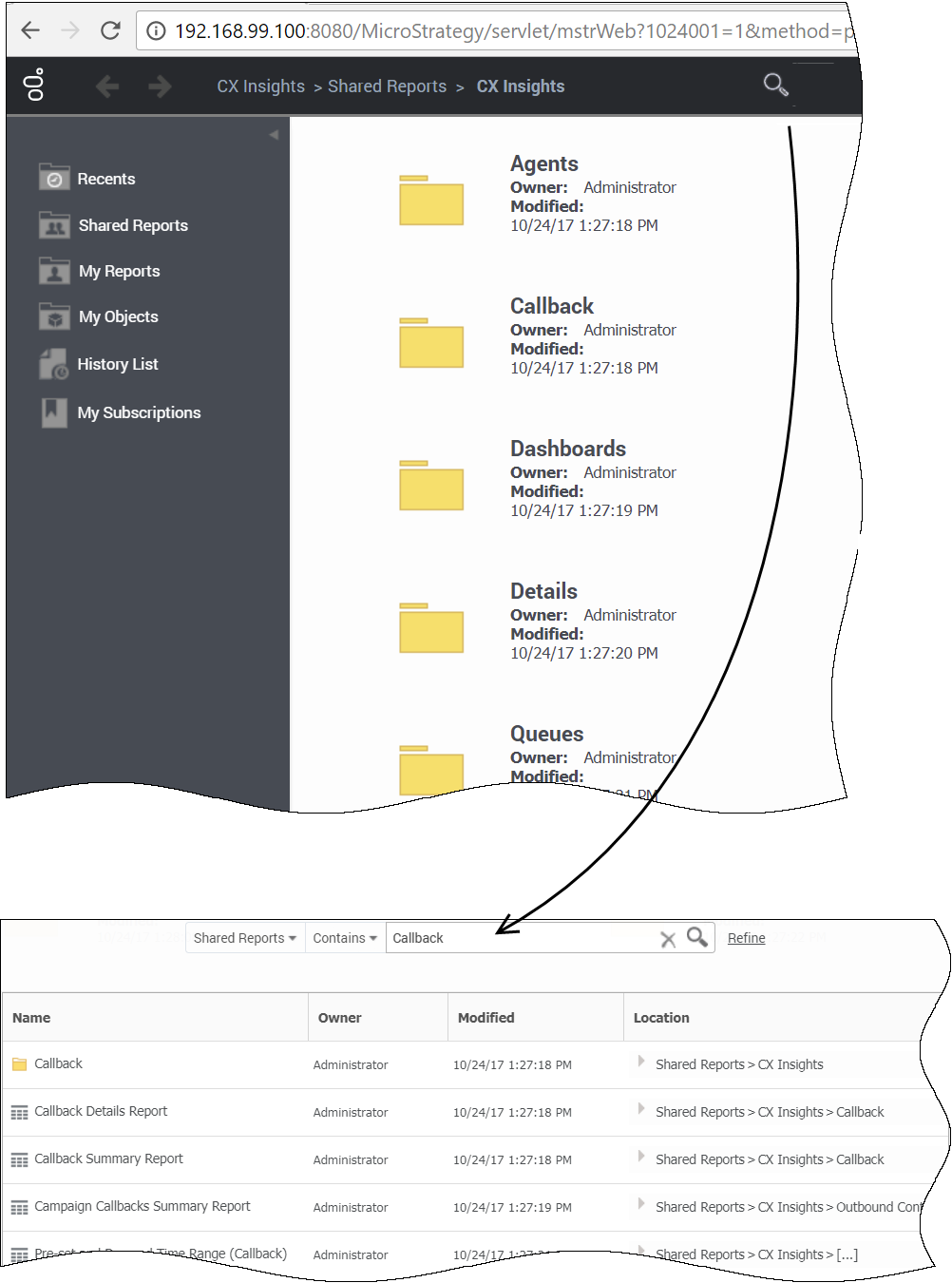 As you browse in Genesys CX Insights, clickable breadcrumbs appear at the top and bottom of the page:
Shared Reports > CX Insights > Business Results

Click any word in the breadcrumb to return to that folder.
The following folders are the most commonly-used:
Shared Reports—Reports and dashboards stored in the Shared Reports are available to other users (access rights permitting).
My Reports—Reports stored in your private folders, such as My Reports, are visible only to you. This folder is visible only to users who have sufficient permissions to edit or save reports.
If you're not sure what folder or report name to look for, use the search feature to find all relevant reports:
At the top of the page, click the magnifying glass to open the search window.
Select a folder in which to search, enter a search term, and press Enter (or click the magnifying glass). For example, choose the Shared Reports folder, and search for Callback.
For more powerful search options, click Refine.
Advanced search options appear, which you can use to refine your search based on various criteria, such as object type, owner, date, or description.
Run reports
To view a report that is populated with your data, ''run'' (or ''generate'') the report.
On the Genesys Portal, click Reporting GCXI on the All Apps or User tab.
If a page appears where you can select a server, choose the server on which to view reports. You probably have only one server, but if more than one appears and you are not sure which one to select, contact your administrator.
If prompted, enter your user name and password.
The Genesys CX Insights page appears. Click Shared Reports > CX Insights.
Reports are divided into subfolders based on function; select a subfolder, for example Business Results.
From the listed reports and dashboards, either double-click, or right-click and choose Run. For example, Business Metrics Executive Report. The prompts for that report appear.
Select a date or date range, and optionally make selections for other prompts.
Click Run Report (or Run Dossier, for a dashboard).

The report appears. You can filter, drill, and otherwise interact with many report values.
Changing the language used in the reports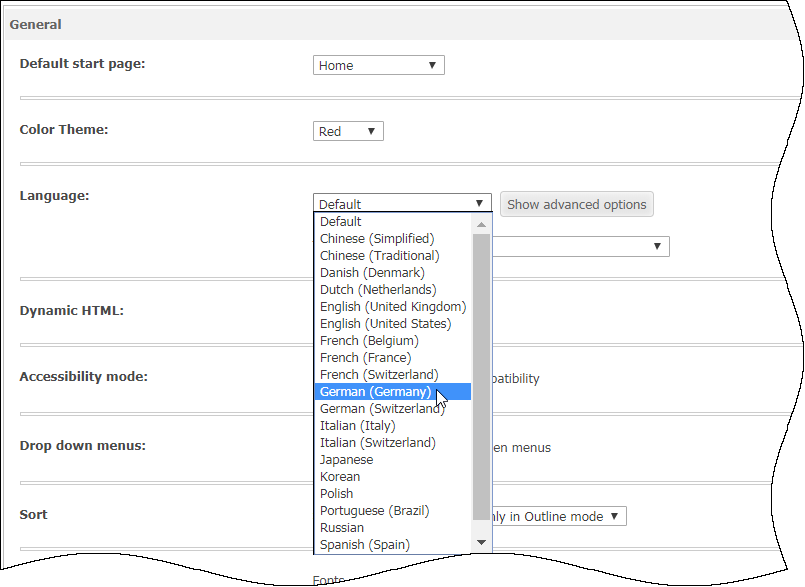 Before you can select a language, an administrator must enable it on the server. Talk to your administrator to find out what language is available for your use. Changes described in this procedure apply only to your own sessions, not to other users.
Note that the language used in some parts of reports cannot be changed. For example, some prompt values are presented in English, even after localization is applied.
Use the following steps to change the language used in the GUI and reports.
Log in to Genesys CX Insights.
Click the menu next to your user name, and select Preferences.
On the User Preferences > General page:

Change the language used in the GUI: In the Language section, select a language from the list.
Change the language used in the reports: Click Show advanced options, then from the Metadata list, select a language.

Scroll to the bottom of the page, and click Apply.
Use the browser's back arrow, or click in the breadcrumbs, to continue.

Supported languages
Genesys CX Insights provides support to translate (localize) the GUI and Genesys CX Insights reports into the languages listed in the following tables. The available list of languages varies depending on the project you are working in (for example, the Genesys CX Insights project or the Genesys CX Insights for iWD project):
| Language | LANGS variable |
| --- | --- |
| Arabic | ar-SA |
| Chinese (simplified) | zh-CN |
| Dutch | nl-NL |
| French (Canada) | fr-CA |
| French (France) | fr-FR |
| German (Germany) | de-DE |
| Italian | it-IT |
| Japanese | ja-JP |
| Korean | ko-KR |
| Polish | pl-PL |
| Portuguese (Brazil) | pt-BR |
| Russian | ru-RU |
| Spanish (Latin America) | es-419 |
| Turkish | tr-TR |
| Language | LANGS variable value |
| --- | --- |
| Chinese (People's Republic of China) | zh-CN |
| German (Germany) | de-DE |
| French (Canada) | fr-CA |
| French (France) | fr-FR |
| Japanese (Japan) | ja-JP |
| Portuguese (Brazil) | pt-BR |
| Russian (Russia) | ru-RU |
| Spanish (Mexico) | es-MX |
Learn more about Genesys CX Insights
In this document, you can find information about the following topics:
To view more detailed information about the metrics and attributes used in the reports, and about other metrics and attributes that you can use to customize reports, see the Genesys CX Insights Multicloud Projects Reference Guide.
Comments or questions about this documentation?
Contact us
for support!