From Genesys Documentation
Monitor the overall progress of your campaign.
Understanding the Campaign Summary Report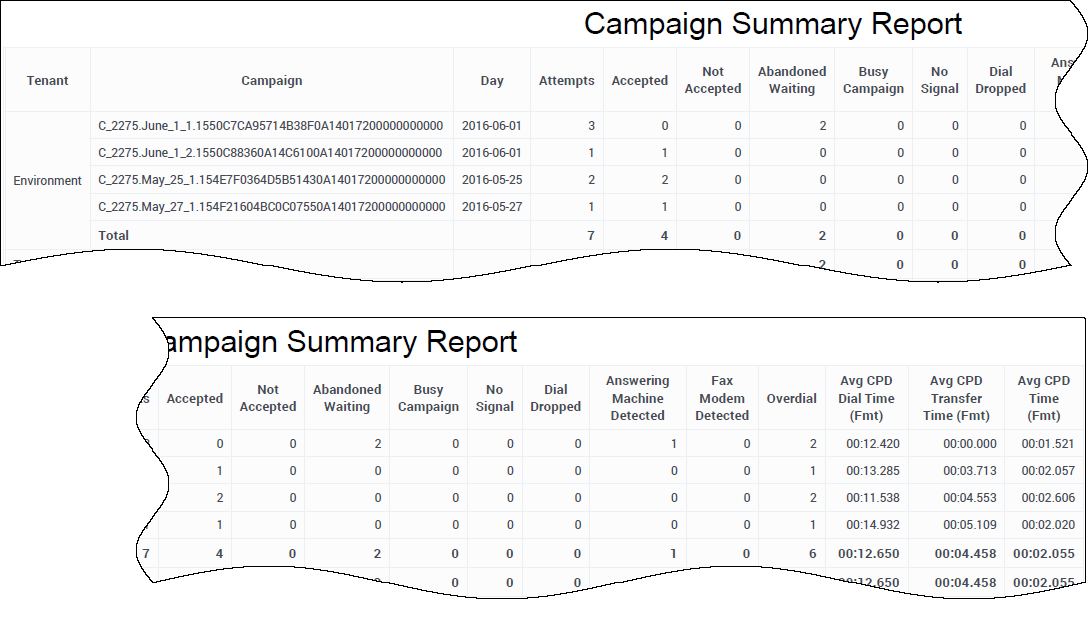 The (Outbound Contact folder) Campaign Summary Report summarizes key metrics, such as Accepted and Not Accepted, that illustrate the disposition of contact attempts associated with Outbound campaigns. The report also examines call-progress detection (CPD) efficiency. The report internally filters the dataset to return Outbound voice-only interactions.
Use this report to understand the disposition of Outbound campaign contact dialing attempts; whether calls connected, were dropped, or failed (together with the reason for failure).
To get a better idea of what this report looks like, view sample output from the report:

HRCXICampaignSummaryReport.pdf
The following tables explain the prompts you can select when you generate the report, and the metrics and attributes that are represented in the report:
Prompts for the Campaign Summary Report
| Prompt | Description |
| --- | --- |
| Pre-set Date Filter | From the list, choose a time period on which to report, and move it to the Selected list. |
| Start Date | Choose the first day from which to gather report data. |
| End Date | Choose the last day from which to gather report data. |
| Campaign | Optionally, select a campaign on which to report. |
| Tenant | For multi-tenant environments, optionally select the tenant(s) for which to include data in the report. |
Attributes used in the Campaign Summary Report
| Attribute | Description |
| --- | --- |
| Tenant | This attribute enables data within the reporting interval to be organized by tenant. |
| Campaign | This attribute enables data to be organized by the name of the outbound campaign. |
| Day | This attribute enables data within the reporting interval to be organized by a particular day within a month and year. Day values are presented in YYYY-MM-DD format. |
Metrics used in the Campaign Summary Report
| Metric | Description |
| --- | --- |
| Attempts | The total number of contact attempts that the Outbound Contact Server processed for this campaign regardless of the disposition of each attempt or how the attempt was initiated. |
| Accepted | The total number of times attributed to the interval that contact attempts from this campaign returned an answered call result (CALL_RESULT_CODE='ANSWERED'). |
| Not Accepted | The total number of times attributed to the interval that the call result of contact attempts from this campaign was No Answer (CALL_RESULT_CODE='NO_ANSWER'). |
| Abandoned Waiting | The total number of times attributed to the reporting interval that contact attempts from this campaign returned an abandoned call result (CALL_RESULT_CODE='ABANDONED'). |
| Busy Campaign | The total number of times attributed to the reporting interval that contact attempts from this campaign returned a busy call result (CALL_RESULT_CODE='BUSY'). |
| No Signal | The total number of times attributed to the interval that the call result of contact attempts from this campaign was Wrong Party—the right person was not contacted (CALL_RESULT_CODE='WRONG_PARTY'). |
| Dial Dropped | The total number of times attributed to the interval that the system detected a call drop during contact attempts made from this campaign (CALL_RESULT_CODE='CALL_DROP_ERROR'). |
| Answering Machine Detected | The total number of times attributed to the reporting interval that the system detected an answering machine for contact attempts from this campaign (CALL_RESULT_CODE= 'ANSWERING_MACHINE_DETECTED'). |
| Fax Modem Detected | The total number of times attributed to the interval that the system detected a fax machine for contact attempts made by this campaign (CALL_RESULT_CODE='FAX_DETECTED'). |
| Overdial | The total number of CPD dials that were abandoned or were answered by the called party but not established with an agent or IVR within two seconds of the dialing event. |
| Avg CPD Dial Time (Ms) | The average dial duration (MM:SS:milliseconds) of OCS-initiated calls. Average dial duration for established calls is available only when the CPD Server is used for dialing. |
| Avg CPD Transfer TIme (Ms) | The average amount of time (MM:SS:milliseconds) of CPD transfers completed during the reporting interval. |
| Avg CPD Time (Ms) | The average amount of time (MM:SS:milliseconds) of call-progress detection for contact attempts initiated during this reporting interval. |