Getting Started with Designer
From Genesys Documentation
Learn how to get started with Designer.
Designer is a web-based tool for developing self-service (IVR) and assisted service (routing) applications that run on the Genesys Cloud platform. It is an omnichannel solution, enabling you to craft applications that handle voice, chat, and email interactions.
This video shows a quick overview of Designer and demonstrates a few of its latest features:
Designer provides easy-to-use, highly functional blocks that enable common tasks in a simple and straightforward manner. For example, there are blocks for building menus, playing messages, setting up decision points, routing interactions to agents, and offering surveys.
To build an application, you simply drag blocks from the Palette and drop them into the Application Flow, which is divided into phases and represents the application structure.
For example, you might use the following blocks in the Assisted Service phase, in which an agent helps a customer. The first block controls the announcement to the caller that they are being transferred, and the second block controls the routing function to an agent:

Before you start
Designer supports the latest versions of the following web browsers:
Mozilla Firefox
Google Chrome
Microsoft Edge
Apple Safari
The minimum display resolution supported by Designer is 1920 x 1080.
Access the application

[

edit source

]
Once your Genesys Engage cloud environment is up and running and you've checked that you meet the necessary requirements, log in to your Genesys Portal to access Designer. Click the Designer icon and enter your username and password.
Walk through the application
Watch this video to see an overview of the Designer user interface:
The various elements within the interface are described below.
Navigation bar
Workspace toolbar

Provides buttons for common actions. Click your user name to log off. Click the settings icon to view or modify the global Caching settings for certain resources and to toggle certain Features. Click the Help icon to access the Designer Help.
Application toolbar

Provides buttons for common actions. Click Settings to set global settings for your application. Click Save Flow to save and validate your application, or click Publish to save and validate your application and prepare it for use by routing engines. Click Build to create and manage the builds associated with the application.
Palette

Provides all available blocks that you can use in your application, sorted by functional grouping.
Application flow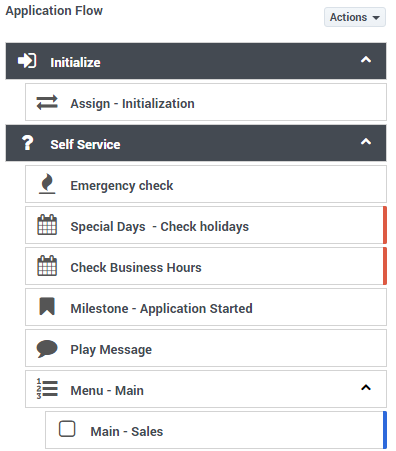 Provides the main area to build your application by adding blocks vertically. (See Build Logic for more information.)
Help pane
Block properties
Quick filters
This toolbar enables you to filter a list of resource items by selecting one or more filters that are associated with tags. The list then refreshes to show only those items that match the selected filters.
In this example, the SMART and Debug filters are selected so that only data tables with those tags are shown.
Note that the filters will display any item in the list that has the associated tag, even if there are other tags associated with that item. If you navigate to a new resource page (such as going from Data Tables to Business Hours), any selected filters are automatically applied to the new page.
To add, modify, or delete quick filters, click the Settings icon to open the Manage Quick Filters window. To associate a filter with a specific tag, select it, and add the tag(s) under the Parameters section.
In the above example, the SMART filter was associated with the "M1App" tag, as follows:
The Quick Filters toolbar appears on the following resource pages: Special Days, Business Hours, Data Tables, Applications, Shared Modules, Emergency Flags, Media Resources, and Digital Resources. The same filters appear on each page, and any filters that you create are visible to other Designer users.
Tip
Tags are a useful tool for keeping resources organized. For consistency, Genesys recommends that you define and use a similar set of tags across your various resource types.
Actions toolbar
Many of the resource pages in Designer have an Actions toolbar:

The action items on the toolbar will vary based on the resource page you are viewing. Depending on the functions available for that particular resource, you can use this toolbar to do the following:

– View History
The View History button opens the history view (or audit log) for a resource. This view shows you a list of each time the resource was viewed, edited, or published, the user who made the change, and the new and previous value of any properties that were changed.
You can use the buttons on the page to view the results for a specific time period (for example, last 1W to see the results for previous week), or use the date fields to specify a custom date range. Results can be sorted or searched and you can use the Export button to export the results as a CSV file.
You can drill-down further into each results item by double-clicking it. This opens an audit window opens that displays additional details for that particular event.
– List media/message collection consumers
Use this button to see information about the applications and modules that are using a particular media or message collection.
– Clone
Use this button to clone the resource. You'll need to assign the cloned resource a unique name.
Important
A cloned resource does not inherit the history and published versions of the original resource.
– List module versions
Use this button to view the version history for a shared module. You can then choose to make a version public, or view a version (in read-only mode) as it appeared at a particular time.
– Export
Use this button to export the resource for use in another Designer workspace. When you export a resource, all versions of that resource are exported, including the unpublished version.
Tip
If you are using a Safari browser when performing the export, the exported file is downloaded as
unknown
. The file is valid and can be imported successfully, but you might want to rename it to something more meaningful.

– Import (Data Tables page only)
Use this button to import the contents of a CSV file into the selected data table. For more information, see Import on the Data Tables page.

— Delete
Click Delete to delete all versions of the resource. However, note that published applications that were already using the resource (i.e. applications that had previously generated their code) are not affected.
Where next?
But before you start building applications, you should learn about some of the key concepts. The following topics provide an overview of things you should know when working with Designer: