From Genesys Documentation
The Designer Bot Registry contains a collection of bot resources you can use in your applications.
Before you start
The Bot Registry does not enable you to create bots. Rather, it stores information about bots that you've configured with a supported bot services provider, such as Google DialogFlow, Amazon Lex, or Genesys Dialog Engine.
Before you can add a bot resource to the registry, you'll need to set it up with one of the supported bot services providers. During registration, you also might need to provide certain account details, such as any URLs, user IDs, or passwords that are required to access the bot. If you are not sure where to get the information required to register the bot, check with your bot service provider.
After you've added a bot to the registry, you can start using it by adding a Bot Block to your application.
Adding a bot resource to the registry
Watch: This video shows a quick demonstration of how to add a bot resource to Designer. The steps are described in more detail below.
Click Add Bot Definition and enter a Name for the bot resource (check valid naming characters for a list of approved characters you can use when naming a bot resource).
For the Type, select your bot service provider and click Submit.
If you are adding a Dialogflow bot, you can import your registration details. See Adding a Dialogflow bot to the registry.
For all other bot services providers, you must enter the bot details manually. For example, here are the properties for a LEX type bot: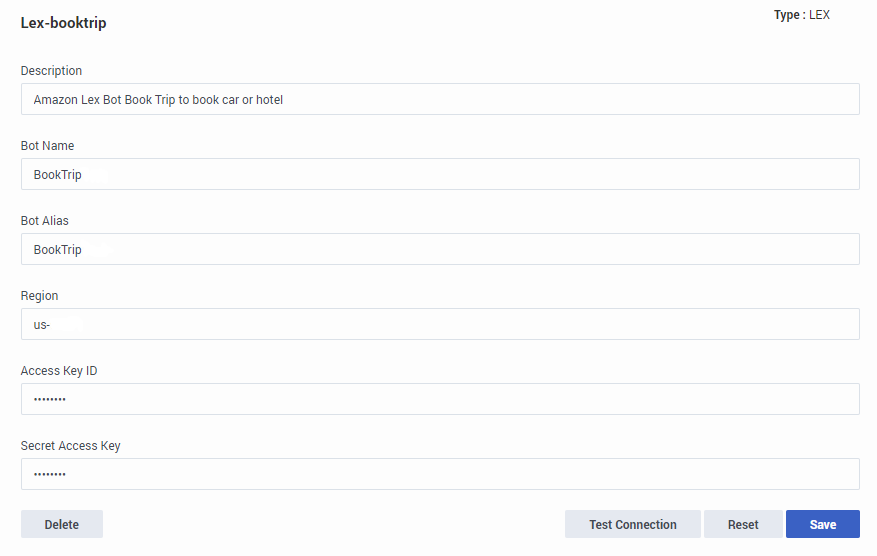 After you've entered the settings for your bot, you can click Test Connection to check if Designer can communicate with it. If the test fails, check your bot details and try again.
When you are finished, click Save to add it to the registry.
You can now use the bot in your applications by adding a
Bot Block
to your application.
Adding a Dialogflow bot to the registry
For Dialogflow bots, you can import a JSON file that contains all of the required settings for your bot resource. You can export this file from your Dialogflow account page. If you need help doing this, refer to the Dialogflow documentation.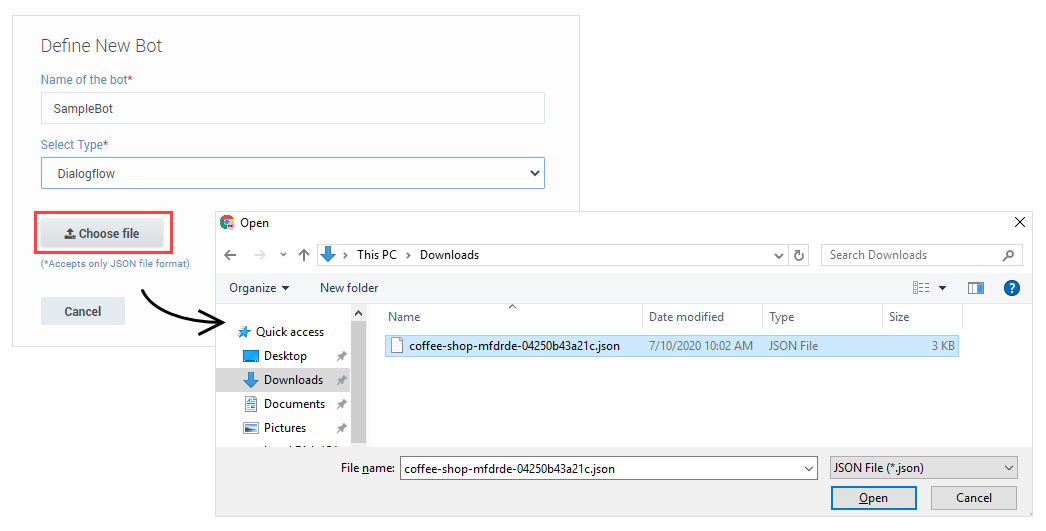 Wait Conversation End
After the settings for the Dialogflow bot are added, you can select an optional setting called Wait Conversation End. When enabled, the Bot Block recognizes intents that are marked as end-of-conversation intents in the bot.
Here's an example of a Dialogflow bot with the settings imported and the Wait Conversation End option selected: