Log in to Genesys Multicloud CX
From Genesys Documentation
Learn how to log in to Genesys Multicloud CX applications and reset your password.
To get started with a Genesys Multicloud CX application, click its icon in the Genesys Portal. You can also open a browser and go to the link for the application that your supervisor gave you.
Enter your username and password. If your contact center uses tenants, enter it in the Tenant field. You will be told by your administrator what to enter in the Tenant field. Leave this field blank unless instructed otherwise by your administrator.
Select the
Remember Me
check box to save your username and tenant information for the next time you log in on the same browser. This information will be populated in these fields.
Tip
If you select clear cache/cookies in your browser settings, your username and tenant are not populated the next time you log in.
You enter your password on a different login screen. Don't enter it in the Tenant field.
Log in with single sign-on
You might work in an environment that uses single sign-on (SSO) identity authentication. If you do, your login experience will be a little different. After entering your username in the application login screen, you will be taken to your company's identity provider where you will enter your username and password. After that, you will not have to log in again until your authentication expires which is typically every eight hours. Using SSO means that once you log in to one application, you will not have to log in to any other applications that are also set up for SSO. In some SSO environments, you will only have to provide your username to log in as you are already authenticated.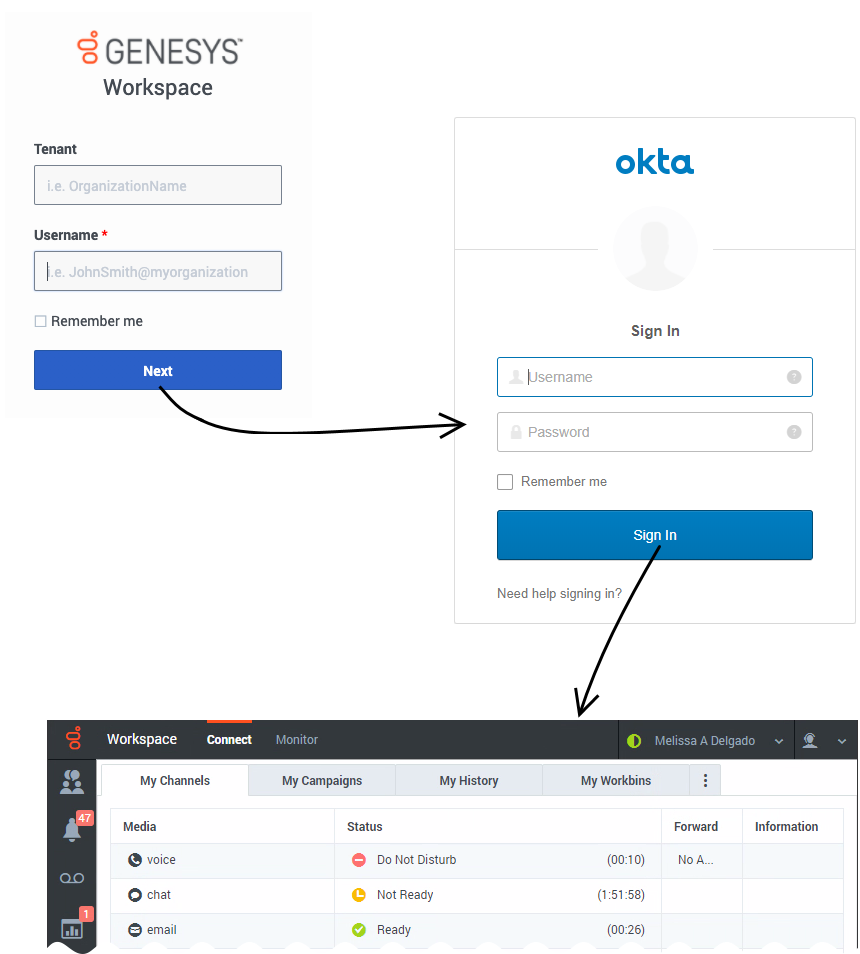 How does SSO work?
Let's take a closer look at the SSO login process with Agent Workspace. In this scenario, Okta is configured as the identity provider, but the login flow is the same for all identity providers.
First, click the Agent Workspace icon in Genesys Portal and enter your username. You must log in to the application even though you're already logged in to your workstation.
Click Next. Genesys redirects you to Okta where you're prompted to enter your username and password. Once you log in with Okta, you're redirected back to Agent Workspace and automatically logged in. Alternatively, if you are already logged in with Okta when you click Next, Genesys skips the Okta login and automatically logs in to Agent Workspace.
Now that you're authenticated with the identity provider, you can choose any SSO-enabled application from Genesys Portal and you are automatically logged in without entering your credentials.
If you happen to close all browser tabs without logging out of the applications, you will remain logged in for five minutes. If a second window or browser is opened after five minutes, to either the same application or any other SSO-enabled application, you will again be prompted for your credentials.
Reset your password
If your administrator has enabled a password reset for your account, you'll see this page the next time you try to log in to an application such as Agent Workspace.
First, verify your username (this field is not editable) and enter your old password.
Next, enter your new password. Your company will have specific password rules. If your new password does not follow those rules, you will see warning messages. Re-enter your new password to ensure that you did not make any mistakes in the New Password field.
Click
Change Password
to save your new password and log in to the application.
Comments or questions about this documentation?
Contact us
for support!