From Genesys Documentation
Workitems, called Open Media by Genesys Digital channels, are documents that might be directed to you for handling. They include many media types, such as faxes or PDFs, that you might have to view while you are handling interactions of another type, such as email.
The Workitem interaction window enables you to view all of the information necessary to handle a workitem.
How do I handle a workitem?
Typical actions you can take with a workitem are:
to transfer the workitem to another agent.
View the associated case data.
Add a note or disposition code.
Mark it as done.
Move it to your in-progress workbin to work on later.
Watch the video to see what happens when a workitem arrives at a workstation.
How can I get help with a workitem?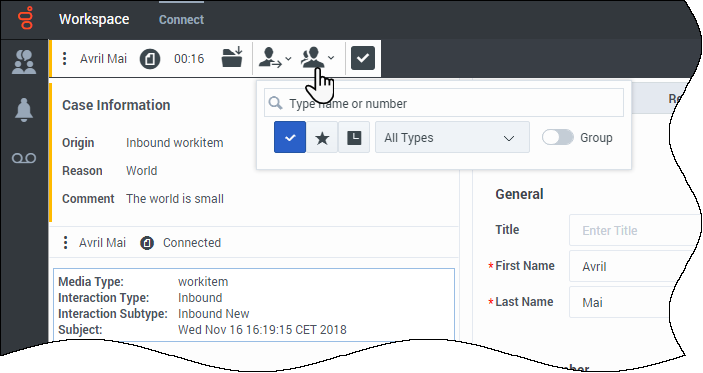 Check the associated case data for information that might help you.
Call the contact, if your site has this feature and their number is available in your contacts list.
to start a consultation with a team member. If you want to perform a warm transfer or a two-step transfer, click Consult to talk to the consultation target and then click Transfer to transfer the call.
If you are transferring the workitem to someone else, you can add your own notes or instructions for that person to review.
Transferring a Workitem
What next?
Top 5 topics