How to install the Workflow Designer
From Genesys Documentation
Procedure to install the Workflow Designer for the Gplus Adapter for Microsoft Dynamics 365.
Important
This section and all information related to the
Workflow Designer
only apply to Microsoft Dynamics 365 with
Channel Integration Framework (CIF) version 1.0
.
This procedure explains how to deploy the Gplus Adapter Web Resources in Microsoft Dynamics 365. The package includes the following solution to be imported:
SoftphoneWorkflowEditor.zip
This managed solution implements the Workflow Designer.
Installation steps:
Log in to Microsoft Dynamics 365 with administrator rights and navigate to Settings.
From Settings, go into Solutions and click the Import button.
Select the Web Resources Zip File (SoftphoneWorkflowEditor.zip) to import it into the Microsoft Dynamics 365 environment.
Once the Workflow Designer is installed, the Adapter automatically deploys the related Power Application under its instance. This application, called the Workflow Editor App, is now visible among all other Power Apps in the Dynamics navigation on the left side.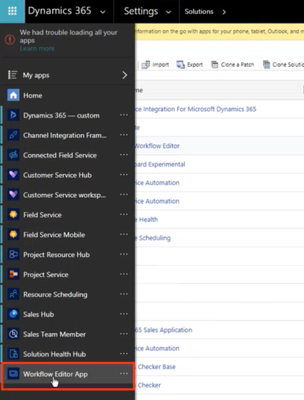 Proceed to How to configure the Workflow Designer to learn how to set it up.