From Genesys Documentation
Learn about things to watch for when logging in and out of WFM.
Before you log in, ask your supervisor for the URL (web address) for WFM Agent for your desktop. After receiving it, add it to your browser's Favorites or Bookmarks list so that you can easily return to it.
Tip
WFM Web is optimized for a screen resolution of at least 1024x768. At lower resolutions, some elements (such as table headers) might not display correctly.
Logging in
To log in:
Open the Workforce Management (WFM) Agent application.
When the splash screen appears, log into WFM by entering your Username and Password.

You can log into WFM Web from any computer using a supported web browser.
Important
Open WFM Web in only one browser window on your workstation at any given time. Running Web sessions in more than one browser window simultaneously can cause the program to behave unexpectedly. (In other words, do not open a second browser window on the same WFM Web session by selecting
File
>
New
or pressing
Ctrl+N
.) If you must run more than one WFM Web session on the same workstation, launch a separate instance of your browser, then log in to WFM Web again from that browser instance.
Login timestamp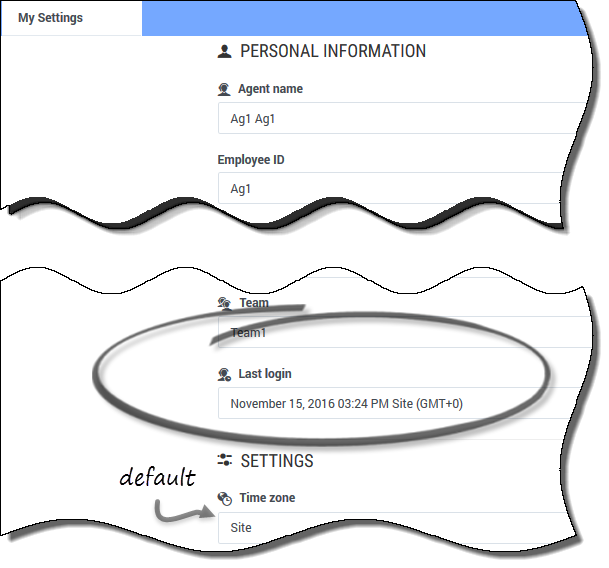 After you log in through the Agent desktop, the WFM Agent application displays the timestamp information from the previous login, alerting you of any unauthorized use of your login credentials.
The timestamp displays the date and time in the time zone that is shown in the
Time zone
field (
Site
is the default). You can find this information by clicking
Configuration > My Settings
or by clicking your username in the top-right corner of any WFM Agent window and selecting
My Settings
.
Logging out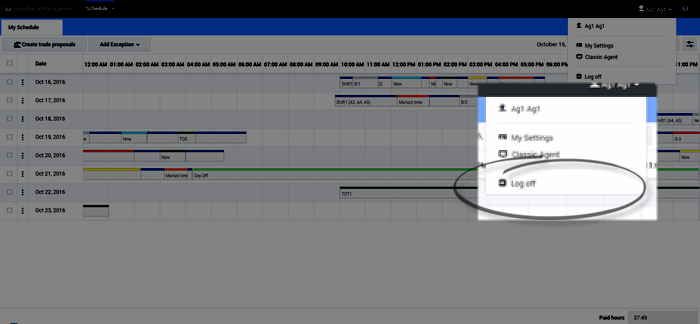 When you are finished using WFM Web, it is important to always log out. If you do not log out, other users might be able to view your account information.
To log out:
In the top-right corner of any WFM Web window you have open, click your username.
From the drop-down menu that appears, click Log off.
This ends your WFM Web session and returns you to the
Log In
dialog. You can now close your browser if you want to.
Session expiration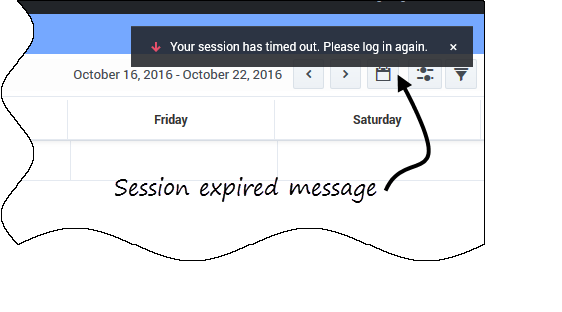 A WFM Web session expires if you have not used it for a certain amount of time. If your session expires, and you try to make changes or view certain information, the Session Expired warning appears.
To start using WFM Web again:
After a couple of seconds, when the warning message disappears, click your username and then click Log Off.
When the Log In dialog appears, enter your user name and password (just as you would to start using WFM Web).

If you are finished using WFM Web, close your browser.
Comments or questions about this documentation?
Contact us
for support!