From Genesys Documentation
View your personal information, shared transport arrangements, and schedule Exception totals.
The views in the Configuration module provide access to your personal information, shared transport arrangements, and the schedule exception totals. Click Configuration to reveal the drop-down menu that lists the views in this module:
Viewing my settings
The information in this view is displayed in two sections: Personal Information and Settings.
The Personal Information section includes: your name, employee ID, contract, hire date, site (business unit), team, and date/time of your last login.
You cannot change any of this information. If your supervisor changes something, WFM updates this information accordingly.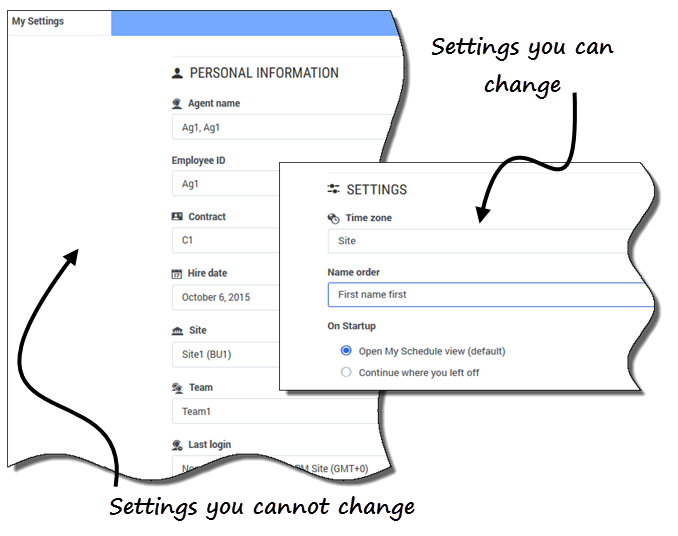 The Settings section includes:
Time zone—The Site time zone (default) or your current one (depending on whether or not you have changed it).
Name order—Your name order, whichever order of the three you chose (First name first [default], Last name first, or Last name first, separated from first name with a comma).
On Startup—The view that you prefer to see at startup. The choices are: Open My Schedule view (default) or Continue where you left off.
If you select a time zone other than the default (
Site
) option, the
Schedule
,
Trading
,
Preferences
, and
Time Off
modules display information, based on your selection.
Tip
WFM is a web-based application so any modifications you make to the
Time zone
,
Name order
, and
On Startup
settings are saved in the browser cache. If the administrator or someone in your contact center has set restrictions on how your browser performs caching, your changes might not be saved and you will have to change the settings every time you log in. This might also be the case if you log in to WFM using a different browser than the one you used to save the settings, or if you are using an older browser version, such as Internet Explorer 7.
Comments or questions about this documentation?
Contact us
for support!