From Genesys Documentation
Learn how to log in and switch between the classic Supervisors UI and the latest Forecast UI, and what you can change in user settings.
Before you can log in to WFM, you must have the WFM Web URL (address). In some contact centers, the Login page might be set up and ready for you to enter your username and password. If this is not the case, ask your administrator for the WFM Web URL. After typing it into your browser, WFM displays the splash screen for the Login user interface (UI).
Logging into WFM
Logging in
Obtain the URL (address) for the WFM application from your administrator.
Open a web browser.
Copy and paste or type the URL into your browser's address bar and press Enter.

The Log in window appears.

Enter your user name and password.
Click OK.
If WFM Web validates your user name and password, the Supervisors (Classic) Home view opens. If WFM cannot log you in, it displays an error message indicating the problem. Either click Log in to try again (for example, if you think that you typed an incorrect user name or password), or click Show error details.
Important
When using the Firefox web browser, ensure that multiple supervisors are not logged in to the same host at the same time.
Opening the latest Forecast UI
Tip
If you do not see the option to open the latest Forecast UI and require access permission, contact your administrator.
Opening the New UI
Log in to the WFM. See the procedure above.
In the top-right corner of the classic Home view (or any view), click New UI.

The new Forecast view opens.

Click the Forecast drop-down menu to select and open any view.
Switching to the Classic UI
Click the Log in/Log out drop-down menu.
Select Switch to classic UI.
Setting the local timezone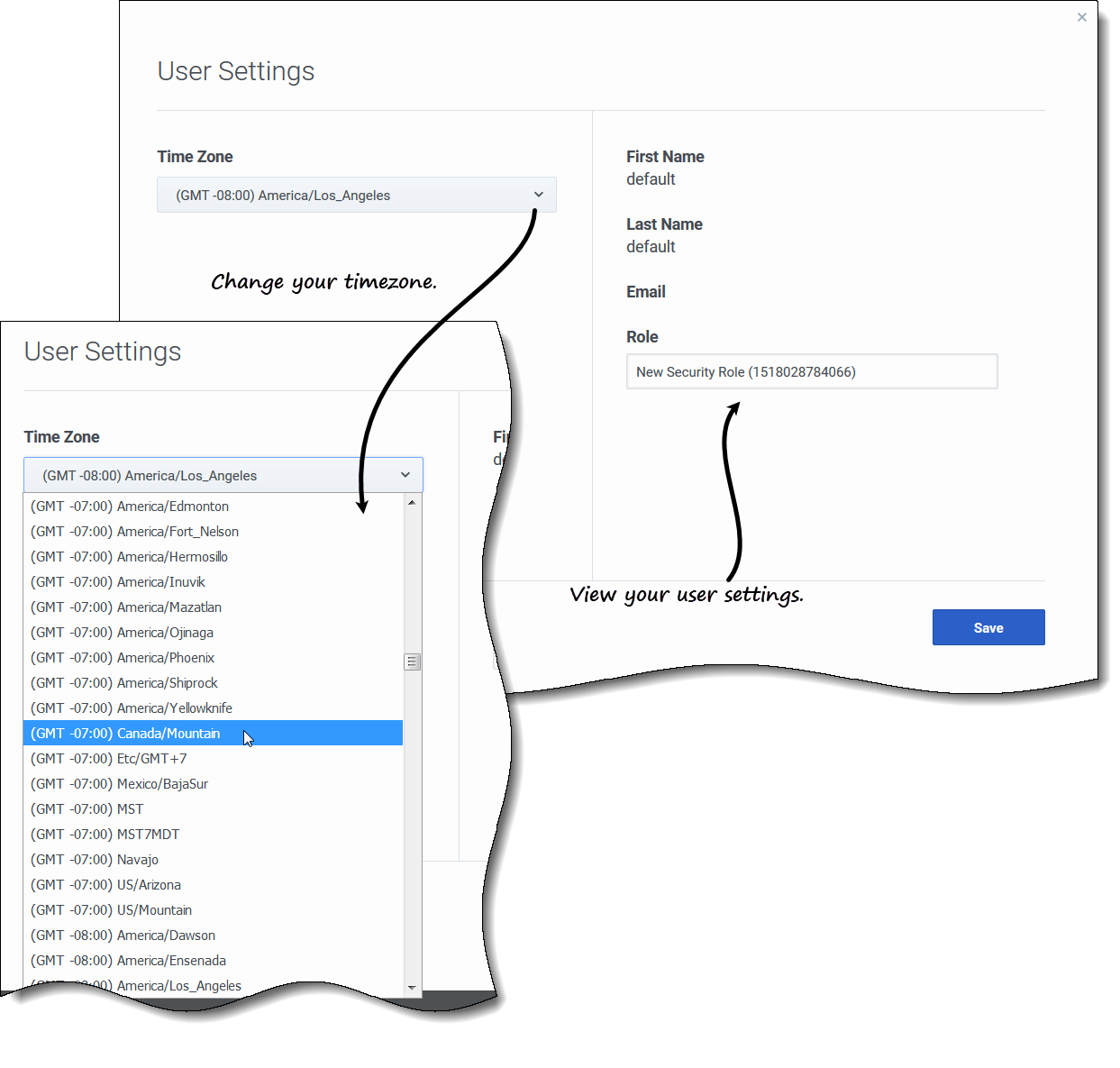 WFM enables you to view your user settings and change your timezone in the User Settings dialog by clicking the Log in/Log out drop-down menu.
Setting your timezone
In the upper-right corner of any view, click the down arrow beside your username.
Select User settings...

The User Settings dialog opens.

Click the Time Zone drop-down menu and select your timezone.
Click Save.
You can also view your first name, last name, email address, and WFM security role in this dialog, although you cannot change these settings.
Logging out of WFM
Always log out when you have finished using WFM. If you do not log out, other users of your workstation might be able to view your account information.
Logging out
Click the down arrow beside your name to open the drop-down menu.
Select Log out.

WFM Web logs you out and the Login screen appears.
Another user can now log in or you can close the browser.
Comments or questions about this documentation?
Contact us
for support!