From Genesys Documentation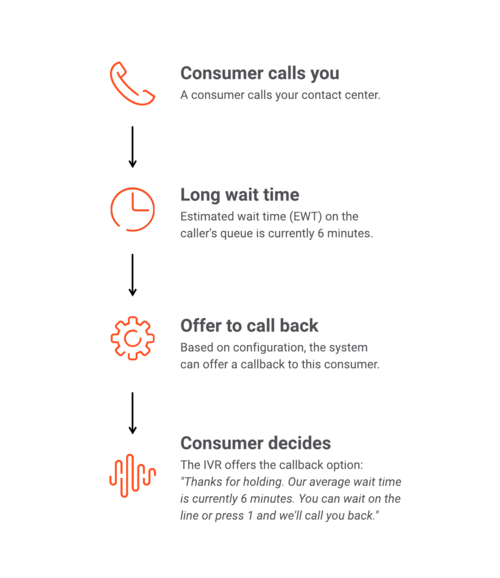 When calling a contact center, very few of us like to wait on hold. When wait times are long, many consumers would rather have someone call them back instead of waiting on the phone for an agent to answer.
Genesys offers classic callback services, allowing consumers to request a callback as soon as an agent with the correct skills is available or to schedule the callback for a specific day and time that is convenient. In addition, Genesys offers robust and feature-rich callback services so you can use Push Notifications and CAPTCHA widgets with your callback offering. You can monitor and manage your callback services in a UI, which includes a view of your callback queues. Key components of the consumer's app or web journey can be preserved for agent or reporting use.
On top of the traditional callback services and scenarios, Genesys also offers the Click-To-Call feature, which lets consumers call your contact center by simply tapping a button in your mobile app.
Genesys offers callback services through a Callback Widget and through Genesys Callback. Genesys Callback and the Callback Widget are two separate offerings that work independently of one another.
Callback includes a UI with which you can provision callback features and manage your callback services. It uses Designer applications to provide callback services. The Callback UI is available on the Genesys portal.
The Callback Widget comprises a service and a customizable UI plugin that you integrate into your website. It provides basic callback service, either immediate or scheduled, based on agent availability. The service allows you to use the widget in order to schedule a callback, or to customize your own callback widget.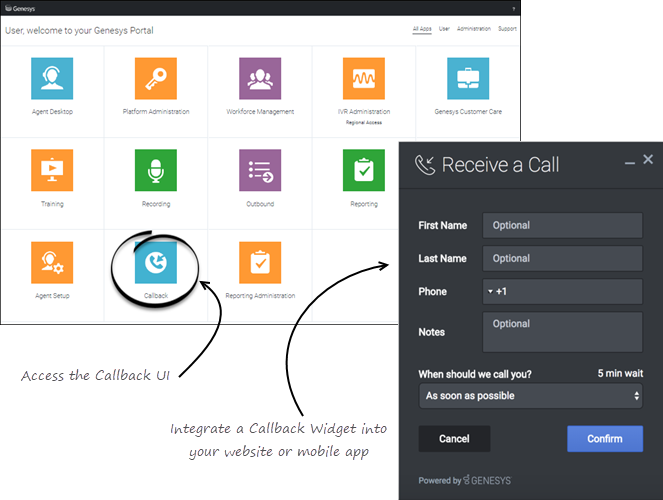 Comments or questions about this documentation?
Contact us
for support!