Analysing your chat bot's performance
From Genesys Documentation
Understand your bot's performance and use it to improve the bot.
Analysing your bot's performance
The Analytics page allows customers to view and understand the performance of the bot visually.
You can view the analytics for a specific date range also.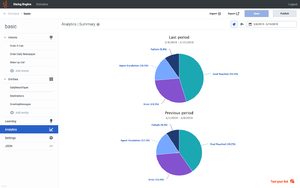 The Analytics page allow you to view :
successful conversations where intents that were identified correctly.
unsuccessful conversations where the intent were not identified or the session had expired.
traffic usage for intents - frequently used intents and related data.