From Genesys Documentation
Things you should know before using Dialog Engine
What is Dialog Engine?
Genesys Dialog Engine allows you to create chat bots for your products through a natural language understanding (NLU) engine that can understand and process information provided as input.
Terminologies
Dialog Engine uses the following key terms in the software and throughout this document.
You can visualise the components as: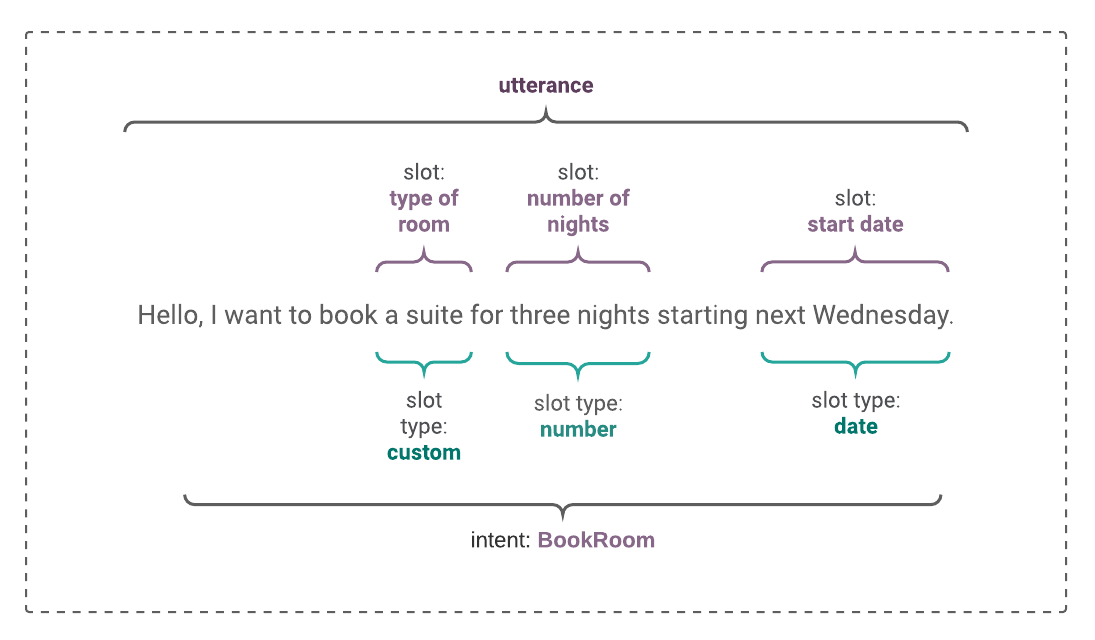 The utterance would be Hello, I want to book a suite for three nights starting next Wednesday. The chatbot would then try to identify the slots: room type, number of nights, and starting date from this utterance. Now some of these slots could be mapped to a value like a number or a date or a custom entity value like room type. Based on this, the bot would identify the intent and proceed .
Tip
Slot names within the same intent cannot have the same names. However, the slot name from different entities can have the same name.
An entity or intent cannot have the same name as a slot. However, an entity and an intent can share the same name.
Accessing Dialog Engine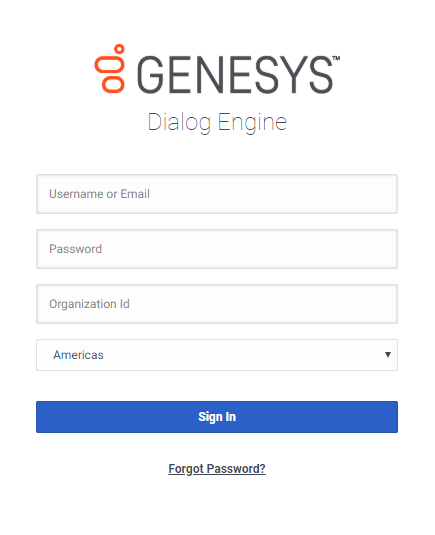 To log in, use the URL provided by your administrator to access Dialog Engine.

Enter your Dialog Engine credentials in the appropriate fields. Then clickSign In.
To log out of Dialog Engine, click Logout in the top-right corner of the screen.
Understanding the User Interface
1. The Library pane includes the following options:
Intents - This option allows you to manage intents.
Entities - This option allows you to manage entities.
Learning - This option helps you to train the bot.
Analytics - This option allows you to view analytics on the bot's performance.
Settings - This option allows you to manage the bot settings.
JSON - This option displays a JSON view for the bot's dialog model.
2. The Workspace section is used to create and manage various components of the chat bot.
3. The Test Your Bot panel allows testing the bot against the dialog model.
4. The toolbar includes the following options:
Import - import an existing bot configuration
Export - export your current bot configuration
Save - save changes made to the bot.
Publish - publish changes to the domain.