From Genesys Documentation
A bot can either use an existing NLU Domain or it can operate as an independent entity.
Overview
The Bots section on the home page displays a list of bots that are available for your organisation.
With a bot, you can do the following activities:
Add a bot that will work with NLU domains.
View the intents, utterances, and slots available for the bot.
Mark some slots as mandatory in utterances.
Add prompts to be displayed by the bot in a conversation.
Add confirmation questions that will be sent by the bot to confirm that it has understood the user's intent.
Add a bot
Click Create a new Bot from the home page (the first page displayed after you log in).
Enter a name for the bot.
(Optional) Enter a greeting or welcome message that the bot will use to greet users.
Click Create to create the bot.
Modify slots (delete)
With the list of slots available for your domain, you can mark slots if they must be mandatory in an utterance and you can also add prompts that will be displayed to the user in a conversation.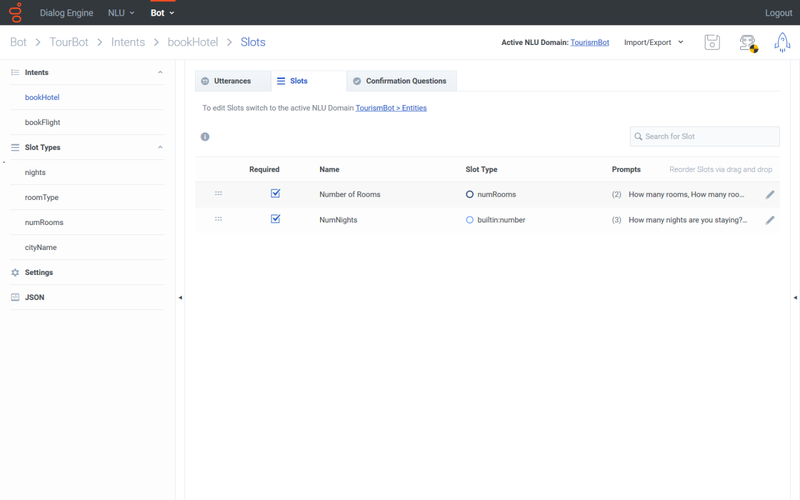 To mark a slot as required, you can:
Select the checkbox in the Required column in the Slots page for a slot (or)
Click the Edit icon and then select Slot Required checkbox in the Edit Slot window and click Save.
To add prompts to a slot:
Click the Edit icon in the Slots page for a slot.
Enter the prompt to be displayed to the user and press Enter to add the prompt.
Add more prompts, if needed.
Click Save.
Use confirmation questions (delete)
Confirmations are used to respond to user inputs and help move the conversation forward. You can provide a set of messages that the bot will use to reply to an user input..
You can provide the initial confirmation message when creating an intent, something like "Ok, I can help you book a hotel?
You can add multiple confirmation messages to an intent, modify existing messages, or remove them.