From Genesys Documentation
Feature coming soon!Learn how to configure the information about sessions and events that appears to agents.
Prerequisites
Configure the following permissions in Genesys Cloud CX:

Journey > Session Type > View
Journey > Session Type > Add
Journey > Session Type > Edit
Journey > Session Type > Delete
Journey > Event Type > View
Journey > Event Type > Add
Journey > Event Type > Edit
Journey > Event Type > Delete


Overview
When agents view a customer's journey information, they see customer activity as a set of cards. Each card represents a separate session. The Session Library allows you to configure how data from custom sessions appears to agents on these cards.
This article describes how to configure the high-level session information (its name and whether it is visible to agents). After you review this article, read and configure the following:
View sessions and events
In Admin in Genesys Cloud CX, open the
Session Library
page. To see the events for a particular session, click the session name.
Tip
To see a custom session in the Session Library, you must have received at least one custom event from it.
Configure a session
The first step in configuring a session is to give it a name that is meaningful to you. A meaningful name helps you to distinguish and identify sessions. For example, you might want to include the name of the third-party system. You can also select whether agents see a session card for the session.
Continue configuring the session by reviewing the following links:
Display session cards to agents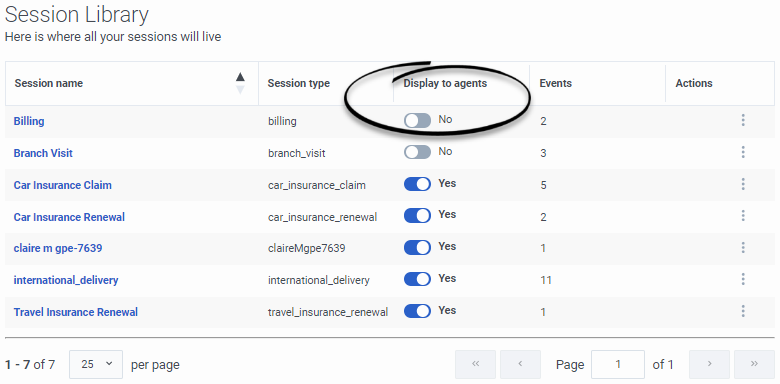 To allow agents to view cards for a particular type of session, set the Display to Agents toggle to Yes. This toggle appears on the main page of the Session Library and when you view the configuration pages for a particular type of session.
If an event arrives before you finish your configuration, Genesys Predictive Engagement creates a session using its default configuration values. You can edit the session configuration later, as needed.
Important
Agents cannot see information about this session and its associated events until you display the session to agents. You can also choose to
display or hide particular events
for a session type.