From Genesys Documentation
Learn how to build a webhook that will use a PureCloud to integrate with a third-party system.
Prerequisites
Configure the following permissions in PureCloud:

Integrations > Integration > Add, Delete, Edit, View permissions
Integrations> Action > Add, Delete, Edit, Execute, View permissions
Journey > Action Template > Add, Delete, Edit, View permissions
For more information on the PureCloud permissions, see
Requirements for the data actions integration
.
Create a webhook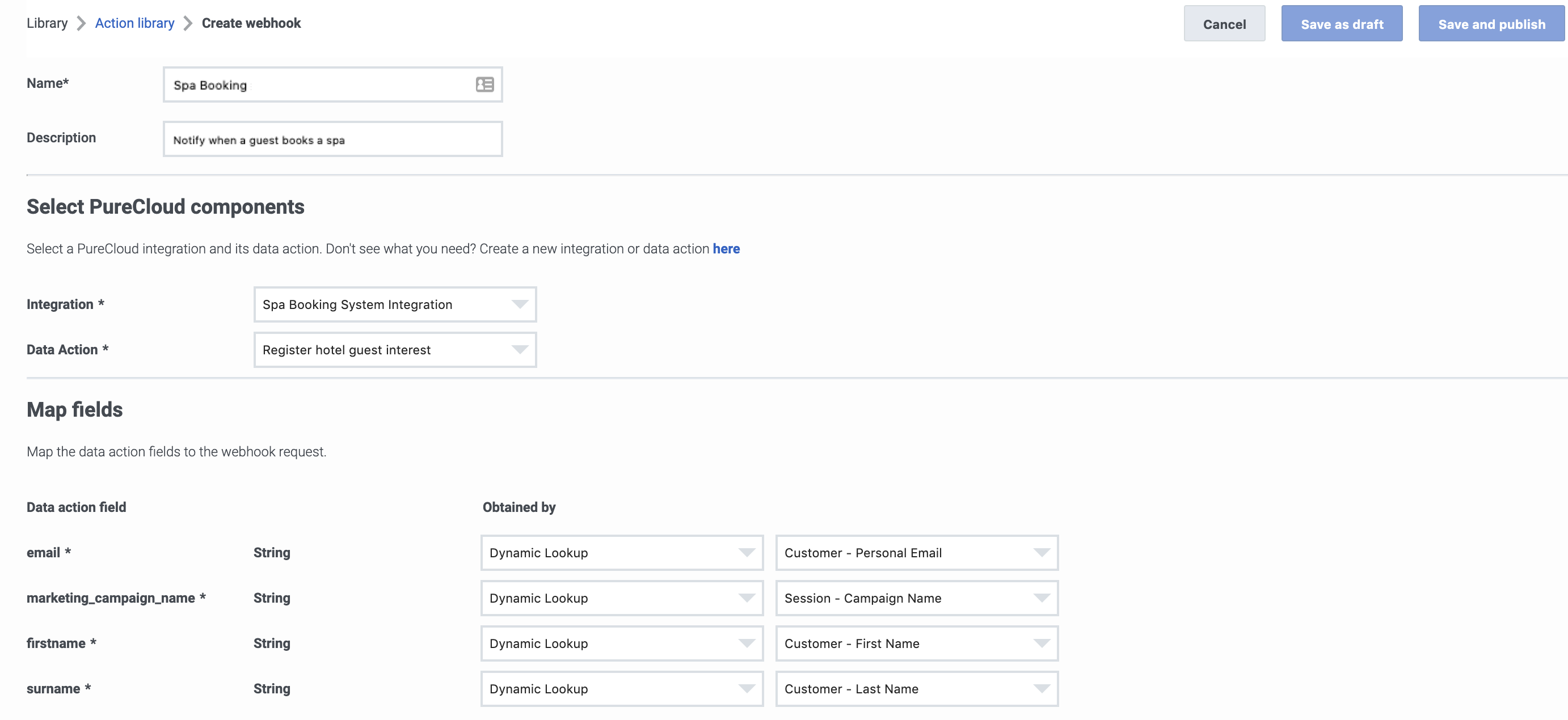 To create a webhook, start in the action library.
Tip
If a similar webhook already exists, you can
duplicate it
instead.
Admin > Altocloud > Action Library.
Click the Webhook tab.
Click Create webhook.
Provide a meaningful name and description.
Select the integration you created in PureCloud.
Select the data action.
For each data action input contract value field, create a mapping that specifies where the field's value comes from. Use hard-coded, static values or use dynamic lookups to map real-time data about customers.


Important

You must map all fields defined for the integration's input contract.



Do one of the following:

Click Save as draft if the webhook is not ready for use with action maps.
Click Save and publish if the webhook is ready for use with action maps.


Important

After you publish a webhook, you can no longer edit it. You can, however, archive it if you no longer need it.
Dynamic lookups
Each data action populates one or more data fields in the backend system. You need to map each of these data fields to the source of the data from Altocloud. You can either provide a hard-coded value or use a dynamic lookup.
Remember, the webhook will be triggered by an action map, and that action map will be triggered because a user with specific characteristics or behaviors is on your website. To capture the specific data about that particular user, use dynamic lookups.
Important
You must map all fields defined for the integration's input contract.
There is no way to verify that the dynamic lookup you select will have a corresponding mapped value at the time when the data action is executed. The data action will be executed in any case.
To see the full list of available dynamic lookups, click the following links:
Use the webhook with an action map
Under Select action, click Configure.
Click Webhook and then click Next
Select the webhook you want and click Next.
Click Finish.
Important
By default, when you create an action map it is automatically
active
when you save it. This is important because the action map must be active in order for the webhook to work properly.
Go-live checklist