From Genesys Documentation
Learn how to create a webhook that uses Genesys Cloud to integrate with a third-party system.
Prerequisites
Configure the following permissions in Genesys Cloud:

Integrations > Integration > Add, Delete, Edit, View
Integrations> Action > Add, Delete, Edit, Execute, View
Journey > Action Template > Add, Delete, Edit, View
For more information about the Genesys Cloud permissions, see
Requirements for the data actions integration
.
Create a webhook
You create webhooks in the Action Library. Provide a descriptive and meaningful name and description (for example, Adobe Integration). Specify the Genesys Cloud integration and data action to use. Map each data action field to a hard-coded, static value or real-time visitor data using dynamic lookups.
After you create a webhook, it appears on the
Webhook
tab in the Action Library.
Webhook options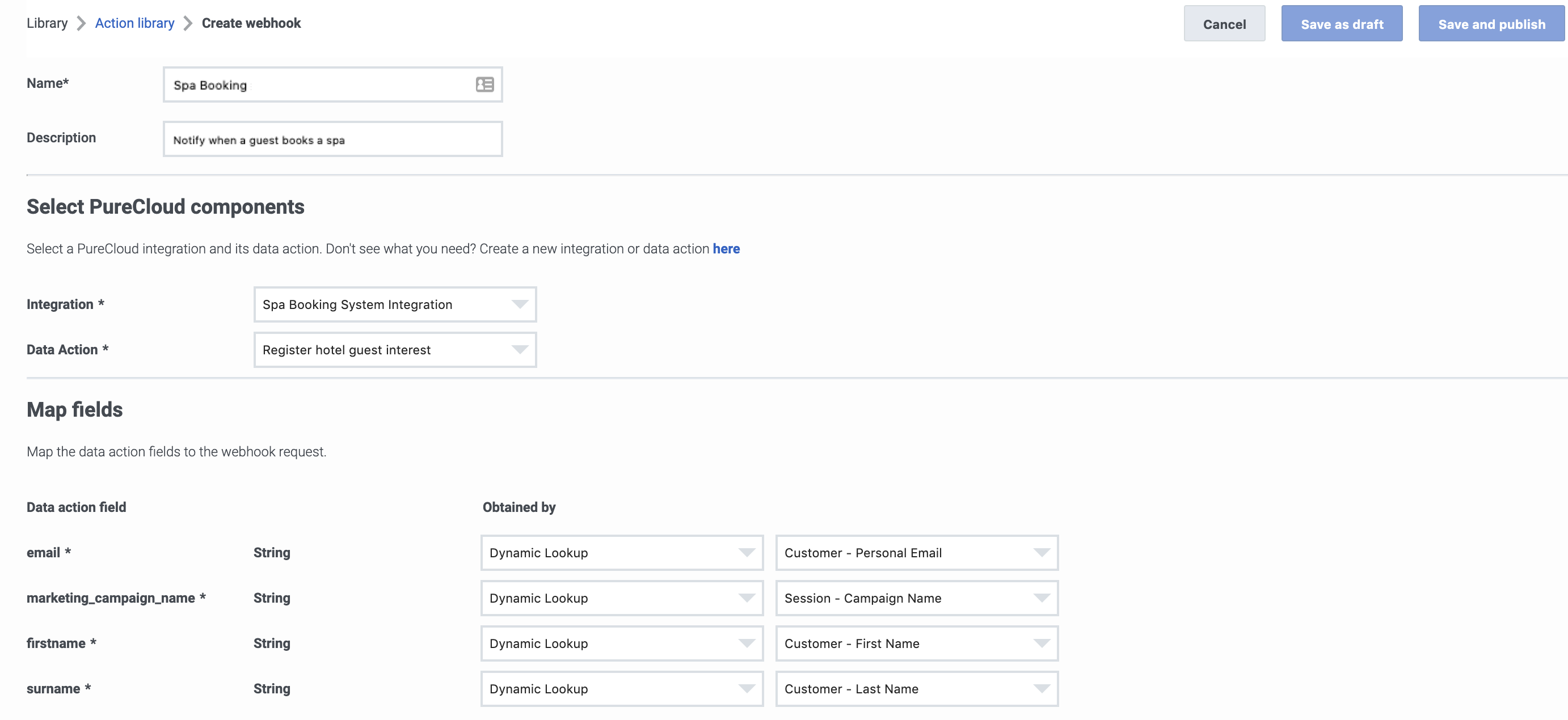 Integration: Genesys Cloud integration to use.
Data action: Data action to use to access data.
Data action field: Data action field to map to the webhook request.
Obtained by: Source of the field's value. You can use hard-coded, static values or dynamic lookups to map real-time data about visitors.

Important

You must map all fields defined for the integration's input contract.
Dynamic lookups
Each data action populates one or more data fields in the backend system. You need to map each of these data fields to the source of the data from Genesys Predictive Engagement. You can either provide a hard-coded value or use a dynamic lookup.
Remember, an action map triggers the webhook, and that action map triggers because a visitor with specific characteristics or behaviors is on your website. To capture the specific data about that particular visitor, use dynamic lookups.
Important
You must map all fields defined for the integration's input contract.
There is no way to verify that the dynamic lookup you select will have a corresponding mapped value when the data action runs. The data action runs in any case.
For more information about the available dynamic lookups, see
Dynamic Lookups for Webhooks
.
Publish the webhook
After creating the webhook, save and publish it so that it's available for an action map to use. For more information, see
Save an action
.
Important
You can't edit an action after you publish it. So, if you're not ready to publish the webhook, save it as a draft. Then, you can publish it when you're ready. If you no longer need the webhook, you can archive it.
Link the webhook to an action map
After you publish a webhook, link it to an action map. The action map defines the conditions that trigger the webhook. You can either create an action map to link the webhook to, or link it to an existing action map.
Specify when to activate the webhook and the time period during which to use the webhook. For more information about action maps, see
About action maps
.
Go-live checklist